Saturday, February 7, 10 am
All-screened Videofest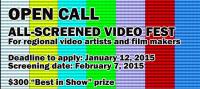 Videofest is an open-call feature of short film and video work by regional producers. Presented to the public in a social and appreciative atmosphere, the one-day festival is a showcase of known and unknown talent alike. All entries received will be shown, and a panel of judges will select one work to receive the title of "Best in Festival" and a $300 cash prize.
DEADLINE
All submissions must be at the gallery by 5:00 pm January 12, 2015.
EVENT DATE
The Brentwood Arts Exchange All‐Screened Video Fest will be Saturday, February 7, 2015.
ELIGIBILITY
This call is open to all artists and filmmakers 18 years of age or older who live within 250 miles
of Brentwood, MD. Submissions are limited to one video per artist/filmmaker.
ADDITIONAL INFORMATION
If you have any questions or would like additional information, please contact:
Phil Davis, Acting Director, Brentwood Arts Exchange
tel. 301‐277‐2863; tty. 301‐446‐6802; fax. 301‐277‐2865
phil.davis at pgparks.com
The Brentwood Arts Exchange
is a facility of The Maryland‐National Capital Park & Planning
Commission, Department of Parks & Recreation, Prince George's County, Arts and Cultural
Heritage Division. Arts programs of the Maryland‐National Capital Park & Planning Commission,
Department of Parks and Recreation are supported by a grant from the Maryland State Arts
Council, an agency dedicated to cultivating a vibrant cultural community where the arts thrive